This Tuesday will be a tasty recipe Tuesday.
I've been trying different recipes that I find online or in cookbooks. I recently ordered a cookbook from Great American Cooking.
There are various interesting foods that I've never cooked before that I am eager to try. I not an expert 'chef', and will never claim to cook anyone under the table, but I love to learn and try new things.
I LOVE Lasagna. I had a friend who made some of the best lasagna I've had to date. I've never tried to make my own, so I've been forced to buy the Stouffer's boxed lasagna. Although their lasagna is very good, I've always wanted to try to make it myself. So here is a recipe I found at AllRecipes that I hope to try one day.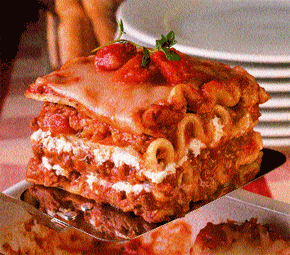 Ingredients:
1 pound Bob Evans Italian Sausage roll

1 (26oz) jar chunky pasta sauce

1 (15oz) can tomato sauce

1 (8oz) package oven ready lasagna noodles

1 (15oz) container ricotta cheese

1 teaspoon Italian seasoning

4 cups shredded mozzarella cheese

1/2 cup grated Parmesan cheese
Prep time: 20 min
Cook time: 50min
Ready: 1hour 10 min
Directions:
Crumble and cook sausage in large skillet over medium heat until browned. Remove from heat and stir in pasta sauce and tomato sauce. In small bowl, combine ricotta cheese and Italian seasoning.

Preheat oven to 375degrees F. Spread 1 cup of sauce into bottom of a 9x13 inch baking dish. Top with 3 noodles. Cover noodles with 1/3 of ricotta cheese mixture, 1 cup of mozzarella and 1 cup of sauce. Repeat layers two more times. Add last 3 noodles. Top lasagna with remaining sauce and with remaining mozzarella cheese. Sprinkle Parmesan over mozzarella.

Cover and bake 45 to 50 minutes or until noodles are tender. Uncover and bake an additional 5 minutes to melt cheese.
I think that when I make this I'll add mushrooms, onions, green peppers, and pepperoni.
I like to have alot of flavor in my food and these four items are my favorites with any kind of pasta sauce.
image