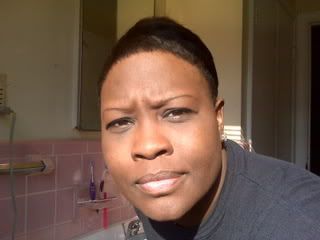 I'm such a bad blog host, I know. A year since I've been back here to post on my blog. Wow. Well, just in case you arent a friend on MySpace, let me bring those who care up to date.
School is awesome. I became a senior in November, but didnt get to start as a senior until February....
---
backtrack:
Well, my husband was thinking of gettin out of the military and we move.
So it seemed to only make sense to me that I leave class until we got resettled wherever we were going to be. I had already had the school director look into transferring to NC if we moved there. But, as it turned out, he didnt get out. So we're still here in New Jersey..for now...and I'm back in school. Expected to graduate October 20th, if I can see not to miss too many days.--
Now I'm in all black and in the Student Salon, where we do actual clients instead of the 'manikins'. I love it. I enjoy haircutting the most. Especially layers!
Let's see....oh yeah the kids.
Emani is now 7 and in First Grade. She's so smart. Not to brag but her reports cards are incredible. For the last 3 marking periods, she has nothing below a 90%! That's great!
Eboni turned four in January and will be starting K4 in September. She is so excited. She has been so ready for school since last year when Emani was in K5. And the fact that she'll get to ride the bus like her big sister is one of the only things she talks about. I try to tell her that school is more than just the ride on the bus. lol I'm sure she knows that though. She's already writing and recognizing all of her letters, shapes, and colors thanks to Emani and their LeapFrog games. It's cute to see Emani come home and try to teach Eboni what she learned in class that day.
Erika aka Rabbit. We call her Rabbit because she is quick. lmao She is just the biggest personality in such a tiny body. She's saying a few words now. Her latest phrase is "heeey boo boo" and and her favorite word is "juice". The snack cabinet is her favorite raid spot. She'll come into the living room with a pop tart or cheese crackers. Or peanut butter and then lead you to the kitchen and point to the bread. Just too grown.
Married life. Oh married life. All married couples know the drill. Good times and bad times. When it's good, it's reeeeeally good. And when it's bad, it's veeeeeery bad. But for the most part we are happy. The last two months have been changed, for the good I hope. I like to think so. Everyone still likes to say we're the 'cutest couple and want to be like us when they get married.' It's a great compliment but we often times have to tell them that they dont get to see the ugly. They usually see the beautiful, crazy fun part. lol But I guess if we can inspire others to want love as much as we love each other then hey! That's a good thing, right?
Oh, yeah! I am a new Aunt again. My brother and his wife had their third child at the end of last year. And her middle name is my middle name! *blush* How cute is that? She's just as adorable as my nephew and older niece! I've yet to meet her and cant wait.
Well that's about it for now. It's nap time and since I didnt get to go to sleep until 4am (because Erika is not in the best of spirits this week) and had to get up at 7a to get Emani ready for school, I will be joining Eboni and Erika! I refuse to try to go to class on a rainy Monday with only 2.5 hours of rest saved up. Especially since I know that when I get home tonight I wont get to sleep until about 2am. Time flies when you want some good sleep. lol
So until later.....
keep it sexy!